Weldon B Long Memorial by Sculptor Joy Beckner | Bronze Sculpture Memorials, Medals, and Awards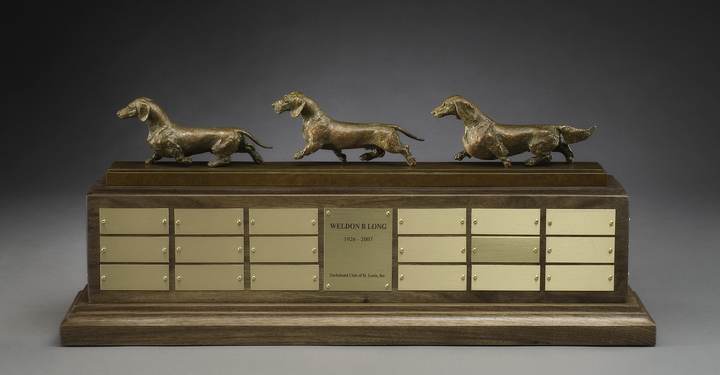 The Weldon B Long Memorial came about as a combined effort of the Dachshund Club of St. Louis and Joy Beckner, the sculptor.
To learn more about this nearly perpetual memorial – there are 45 plaques on it - please click here to read about it on the Dachshund Club of St. Louis site: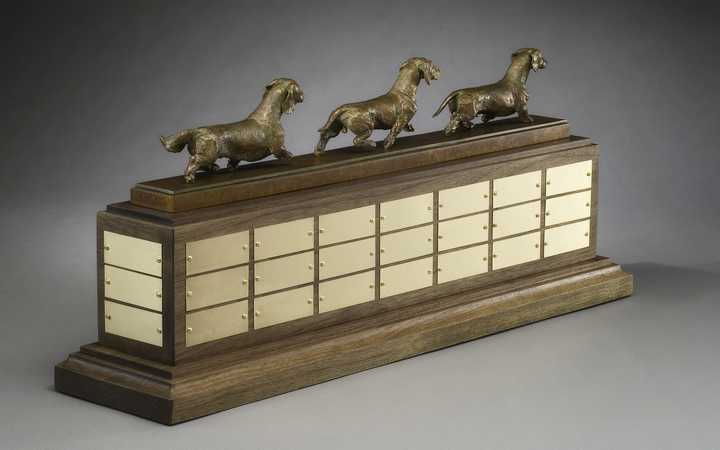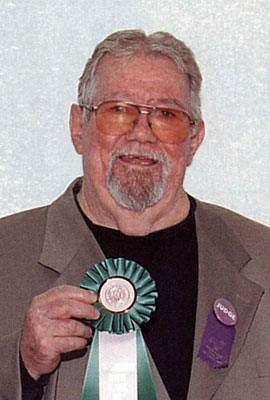 Weldon B Long
Oct. 31, 1926 - Sept. 22, 2007
My anatomy mentor
The world lost a dear friend in Weldon B Long. Yes, it is B, no middle name, just B. An English teacher and dog show judge, Weldon was a friend to everyone -- especially -- those who love dogs. As the oldest member of the Dachshund Club of St. Louis, he mentored breeders and was my dachshund anatomy mentor early in my career. I remain forever grateful to Judge Weldon B Long, without whose early coaching in Dachshund Anatomy 101, I could not have created my dachshund pieces with accuracy so close to the standard. And, oh, could he tell stories! He asked his sister Marilyn Lewis to display this beside his casket: "It was FUN while it lasted!" Weldon is deeply missed by all who knew him.
Dachshund Definitions - Sizes and Coats
SS: Standard Smooth
SW: Standard Wirehair
SL: Standard Longhair
MS: Miniature Smooth
MW: Miniature Wirehair
ML: Miniature Longhair
1:6 Scale: Fits in a hand
Pieces may be commissioned in Smooth, Wire or Long coat.