Charlotte Peltz "Recommended Reading" brought to you by Joy Beckner Artist/ Bronze Sculptor
Charlotte's Recommended Reading:
Canine Nutrigenomics - The New Science of Feeding Your Dog for Optimum Health, by W. Jean Dodds, DVM and Diana R. Laverdure.
NOT FIT For a Dog, by Michael W. Fox, B.Vet Med, Ph.D,D.Sc., M.R.C.V.S., Elizabeth Hodgkins, D.V.M., Esq., Marion E. Smart, D.V.M., Ph.D.
Give your Dog a Bone, by Ian Billinghurst, Australian veterinarian.
Grow Your Pups With Bones, by Ian Billinghurst.
BARF (Biologically Appropriate Raw Foods, by Ian Billinghurst.
Culture Clash, by Jean Donaldson.
Dogs are From Neptune, by Jean Donaldson.
Raw Meaty Bones, by Tom Lonsdale, Australian veterinarian.
The Other End of The Leash, by Patricia B. McConnell, Ph.D.
The Power of Positive Dog Training, by Pat Miller.
Dr. Pitcairn's Complete Guide to Natural Health for Dogs and Cats, by Richard and Susan Pitcairn. This book has loads of information and various recipes for prepared food for those who do not want to feed a raw diet. It gives the oh-so-important information about calcium quantities that must be added to the recipes.
Don't Shoot the Dog, by Karen Pryor.
Excel-E-rated Learning, by Pamela Reid, Ph.D.
Natural Nutrition for Dogs and Cats-The Ultimate Diet, by Kymythy R. Schultze,C.C.N, A.H.I. - Certified Clinical Nutritionist and Animal Health Instructor.
Herbs for Pets, by Mary L. Wulff Tilford and Gregory L. Tilford.
Natural Dog Care, by Dr. Bruce Fogle, DVM
.
These books are available from dogwise.com, 800-776-2665.
Charlotte Peltz
Member: APDT (Association of Met Dog Trainers) #5406P, 5/30/01.
Member: NADOI (National Association of Dog Obedience Instructors, Inc.) #987-C.
Member: IAABC (International Association of Animal Behavior Consultants. Member of the Ethics Committee)
Member: ABMA Animal Behavior Management Alliance)
CABC (Certified Animal Behavior Consultant)
"Until he extends his circle of compassion to include all living things man will not himself find peace." Albert Schweitzer.
"One can measure the size and moral progress of a nation to how she treats her animals." Mahatma Gandhi.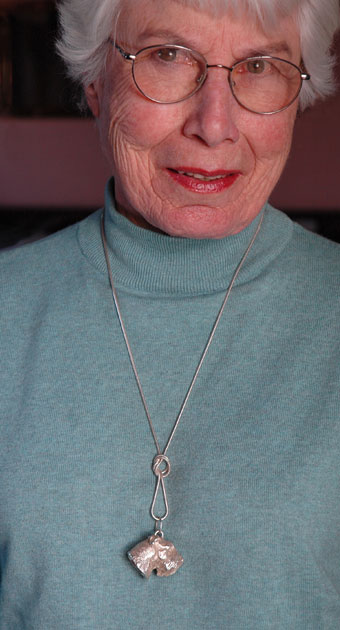 Charlotte Peltz, My Dog Guru!
Note from Joy:
Recently a friend who shows dachshunds in obedience and performance events, told me about a wonderful place where she buys the BARF (Biologically Appropriate Raw Foods) diet, ready made. I looked at www.auntjeni.com and was amazed at the common denominators between Aunt Jeni's information and what Charlotte Peltz recommends. I feel as though the circle is complete; we are back to good wholesome food for our dogs -- and it is conveniently packaged! It's your choice. Check it out!