"Edgar" My Inspiration by Sculptor Joy Beckner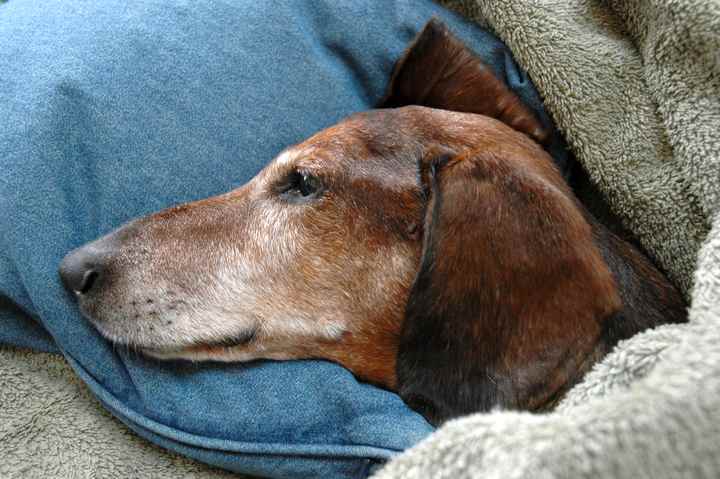 Ch. Retdachs Brwneyed Hansomboy, Edgar
May 14, 1996 – December 10, 2010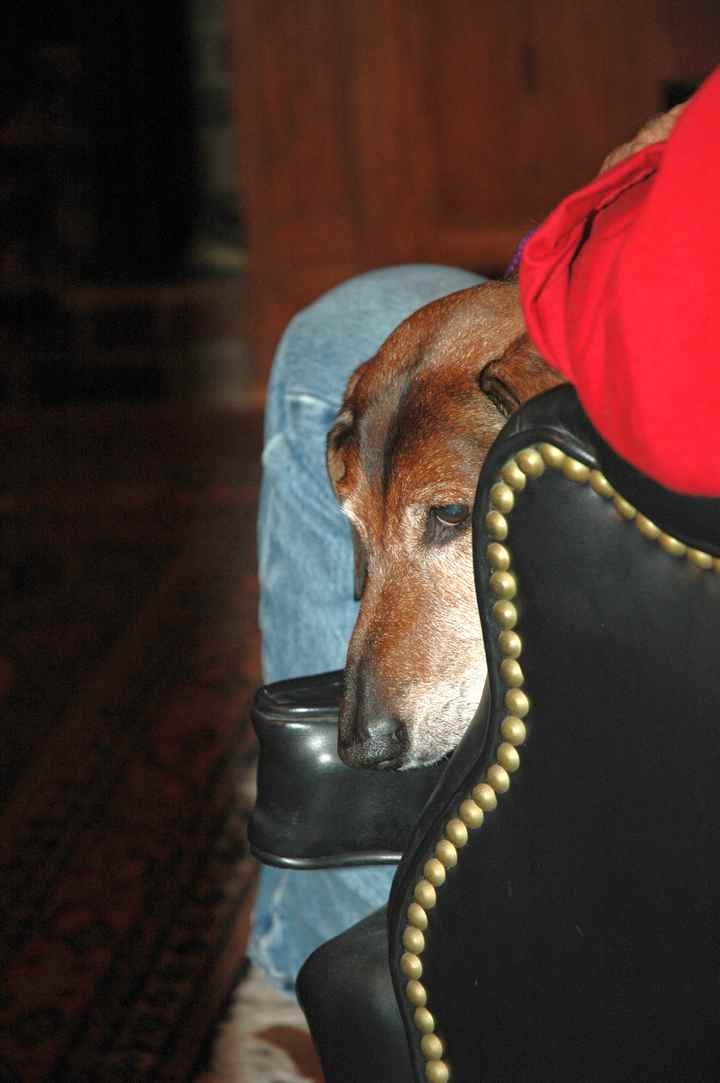 Edgar in Brian's Lap
Photo by Joy
Edgar, soon to be known as Edgar Allan Nose and J. Edgar Pooter, came into our lives in January of 1997. Handled by his breeder, Rita Toombs, Edgar burst into the show scene February 27, easily earning a three point major – at nine months of age! We had no idea what a three point major was; it was our first dog show. In August, at a Kansas show, Judge Jose Luis Payro, president of the Mexican Kennel Club, gave him his final five points for a total of 17 points, two more than needed. After that, we showed him sparingly, once to Fourth Place in the Hound Group.
Edgar was Brian's boy. After our first dachshund Anna died in early May 1996, Rita kindly give me Edgar's grandmother Lizzie on May 31, 1996. By fall it was apparent that Lizzie had adopted me, and Brian really wanted to bond with another dog. Edgar was my Christmas gift to Brian. They were nearly inseparable.
Cancer got him quickly; September photos revealed that the belly bloat, the lost muscle, the rank breath, all came and went within about 2-3 weeks. Though in shock, we are grateful for the speed. Dr. Schaeffer, "If you had not fed him a [healthy] raw diet for the past 10 years, this may have happened two years ago."
We thought he had another week or two, but Thursday, Dec. 9, Edgar told us he was ready. Although he ate no breakfast, he later accepted bits by hand: fresh mozzarella, steamed broccoli, and raw hamburger; hiding in each was a Chinese herb to make his life easier. His final snack was French vanilla ice cream. He could have whatever he wanted then. We buried him between Anna and Lizzie on a sunny day of fifty-seven degrees; it was a beautiful day to die.
Edgar was a gentleman. He gently took food from me. He knew. His last day he let me know when he had to go out to potty. He knew. When his grandmother Lizzie died in October 2006, he went to Brian's office and howled for her. He knew.
Our friends Judge Weldon B Long and Annette Olson welcomed Edgar as he crossed the bridge; then Lizzie, Anna, and his daddy Andy, Ch. Retdachs Brwneyed Hansoman. I know Edgar is happy and whole again. May we all meet again in peace.
Edgar was a gem. We miss him dearly.
Then, Miss Sophie was Queen Bee until she passed August 10, 2013
Thank you for your love & understanding.
Best Wishes to you and yours.
Love, Joy & Brian
Edgar's Last Day
Photo by Joy
12/10/13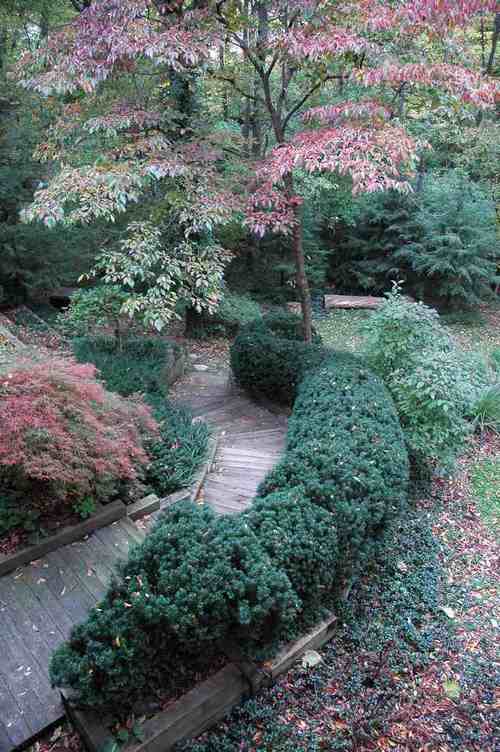 Edgar's Topiary :: Created by Joy
Photo by Joy