Joy Beckner's article in Canine Images Magazine - So Good to See You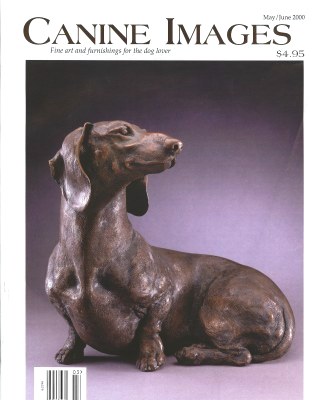 Canine Images Magazine
May/June 2000
"So Good To See You"
Front cover ... Four-page article on Joy's work below.
"Sixteen Years of Inspiration"
by Joy Kroeger Beckner
My life with dachshunds began in 1984 as a pre-nuptial agreement. My fiancé, Brian, who previously owned two smooth dachshunds, researched breeders and found that Audrey Nick of Erie, PA, had a standard, smooth, six-month-old, red puppy bitch. I picked up "Anna von Pumpernickel Gesundheit" at the airport, and when she got home, she piddled all over my hardwood floors. Anna was an adjustment for me, as I'm sure I was for her.
Since that time, I have grown from being a pet owner to being the proud mama of a champion and the recipient of numerous awards earned by my loving, sculptural tributes to my dachshunds. I consider myself very lucky to have had good parents, to have a loving husband, two sweet, beautiful dachshunds and a keen sense of observation.
I have loved to draw since childhood, although I studied at Washington University School of Fine Arts in St. Louis, MO, my career detoured through fashion and sales. Time and inspiration were right to get back to art in 1988. I took classes in portrait painting and, in 1990, when my paints kept getting thicker, I enrolled in a sculpture class. THIS was fun! In 1992, the National Cosmetology Association commissioned me to sculpt fourteen bas-relief portraits of their Hall of Fame inductees. However, my biggest thrill came when the jurors of the Art Show at the Dog Show selected my personal work as Best in Show! Following is the story of how this came to pass.
In Fall 1995 Anna's age and health inspired me to do a series of sculptures devoted to her. Although I had a model, I felt I needed help with anatomy. Through Audrey Nick, I met Weldon Long, a long-time dachshund judge, who taught me "Dachshund Anatomy 101."
A name for the sculpture came to me while Anna and I were out putting up Christmas lights. She sneaked to the back garden where she looked for tasty summertime tomatoes. I would hear her woof in her sleep. That's when Anna in bronze became Dreaming of Tomatoes. I was so excited about my first dachshund bronze that I entered it in my first national competition, the 1996 Art Show at The Dog Show. My Series of Dachshunds paved the way for my election to membership in the Society of Animal Artists, Inc. (SAA), where Dreaming earned its highest award, the SAA Award of Excellence, and is included in the Society's National Museum Tour.
My second dachshund bronze, A Good Life, was modeled from life, nature and photographs. It is a loving combination of Anna and Lizzie, whom you are about to meet. In the spring of 1996, Anna posed on her back, in her bed, for about two-thirds of the day. She died early May 7. I completed one front foot, one back foot and part of the face. By five o'clock, I could do no more. With tears in my eyes, I buried my old friend in my garden next to a bench where we could visit. The sculpture remained unfinished. For three weeks, I could not go to my studio. Weldon knew I was looking for a new model and invited me to bring Dreaming to the St. Louis Specialty. Rita Toombs, a Springfield, MO, breeder, came to my rescue. She generously offered me a gorgeous, seven-year-old, retired show girl. The next day we drove six hours to get Lizzie.
The differences between Anna and Lizzie amazed me. Anna's ears were strong, where Lizzie's ears are silky and have very delicate, beautiful edges; Anna's feet were bigger; Lizzie's keel is bigger. The head evolved into Lizzie's while the body is Anna's, with a bigger keel. The necessity of using both models was a blessing, for I made a better sculpture than if I had used just one model. Naming it was a lot easier than making it. Everyone said what "a good life" Anna had.
In Spring 1997, The Art Show at the Dog Show in Wichita, KS, awarded A Good Life Best in Show. Because of this award, my work was published nationwide. Photos of A Good Life and remarks were published in many magazines, including Wildlife Art, Art Revue and The Equine Image.
While I admire many sculptors, living and deceased, I hold five sculptors in the highest esteem: Saint Gaudins, Rodin, Houdin, Maillol and Antoine Louis Barye, the famous French animalier. Although I've been fascinated with the aesthetics of human anatomy since grade school, my greatest challenge remains canine anatomy. I strive for natural poses. Of course, I'm lucky to have good models to watch on a daily basis. I've always loved working with the beautiful lines of nudes and I still do, except now, they are nudes of dachshunds. When I sculpted A Good Life I stretched and twisted my body into positions in which I had observed Anna. I felt my own sides and arms to help understand the forms in that position. After all, we are all a variation on a theme.
Life's a Ball! was modeled after my champion, Edgar, Lizzie's grandson. It is my first piece to be accepted in two National Sculpture Society exhibitions. The Artist's Magazine awarded Dream Chasers--Best of Breed second place in the category of animal art in its 16th annual competition.
My latest, So Good to See You, was selected for the 175th Annual Exhibition of the National Academy in NYC. It is included in 21st Century Dog: A Visionary Compendium, edited by Michael J. Rosen, to be published this fall by Stewart, Tabori & Chang.
I create sculpture with an eye for movement and proportion. However, I believe that if you sculpt what you love, what inspires you, that love and inspiration will show in your work and people will respond. A pleasant surprise has been how many of my collectors have dogs other than dachshunds - everything from Chihuahuas to Great Danes.
My goal is to continue to make sculpture worthy of art awards. While I would certainly consider modeling another breed life-sized, I must find inspiration in that breed. Seeing, feeling and being with the live dog is critical to making the best sculpture. Recently, however, I did take a commission for a miniature wire-haired dachshund who is no longer with us. I believe I've learned enough about dachshund anatomy to comfortably interpret him. I also wanted to experiment with a different texture. Furthermore, the dog's mom kept telling me what a great dog he was. From her unbelievably good reference material, including x-rays for size, I decided this little troublemaker had just the personality that looked like fun to put into clay. Ask me in six months how I feel about doing sculpture strictly from photos. I imagine I'll still say, "Working from life creates the most believable life in bronze."