Annette Rose Olson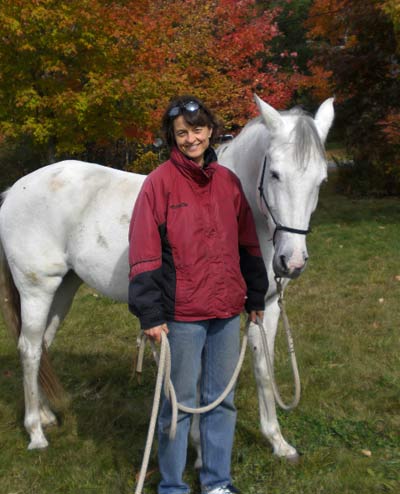 Annette Rose Olson
December 17, 1961 - October 14, 2010
Annette was my friend and mold maker for fourteen years. She was a highly talented, visionary engineer of exceptional molds. In addition, she adored her Andalusian mares and, when she moved, she always made her choice based on the best balance between good horse property and good mold making and wax pouring space. I followed her throughout Colorado -- from Denver to Golden, to Salida, to Buena Vista and to Loveland. In spring 2008, when she moved to Massachusetts to train horses, she still worked her magic making my small molds with the help of UPS. Annette simplified my life by always making exquisite molds of complicated miniatures and life-sized pieces. Years ago, when she needed to rest her arms from wax pouring, I tried others, but Annette's waxes always had fewer bubbles and were lighter than those poured by others. I'd found the best mold maker for me.
After battling breast cancer her way, Annette fell asleep October 14 and simply did not wake up. Her circle is complete. She leaves me with memories of her energy and loving nature. I thought the world of her and am grateful to have had her positive spirit in my life for so long.
Annette Olson, 48, artist, loved horses.
By Daily Hampshire Gazette
amherst local obituaries shutesbury
SHUTESBURY - Annette Rose Olson, 48, of Shutesbury, died on Thursday, Oct. 14, 2010, at home after an illness.
She was born in the shadow of the Teton Mountains of Idaho to David and Norma (Davis) Olson. She spent most of her life in Colorado. After graduating from Arvada High School in 1980, she attended college in Utah. Her love of art combined with her entrepreneurial spirit led her to master the craft of mold-making and wax pouring for bronze artists. She started her own business, Annette's Molds and Waxes, in 1998 and worked for artists all over the United States. Her other great love was her horses, Artemis and Exquisite. She developed her own style of natural horsemanship: to watch her with her horses was magical.
She left Colorado in 2009 to begin a new chapter in life and love. She continued working in the bronze industry and was building another business that would include the love of her horses .She was an avid horsewoman, artist, and master of communication with animals and people. She was an amazing big sister, teacher, student and friend, and will be very much missed by those that were lucky enough to be graced with her infinite love and patience. She was preceded in death by her brother, Daniel David Olson, in 2005.
Survivors include her partner, Kate Hart of Shutesbury; sisters Nan Ash of Clarkston, Wash., Ruth Moser of Shutesbury, Annie Hart of Shutesbury and Joyce Hillmann of Bonita Springs, Fla.; brother Cary Olson of Billings, Mont.; nephews Tell Ash of Mountain Home, Idaho, Eric and Ryan Olson of Billings, and Dan Olson of Illinois; and nieces Rachel Pekah of Billings and Elizabeth Olson of Illinois.
A memorial celebration was held on Sunday, Oct. 24, at 12:34 at the Amherst Women's Club. Her family would like to thank Hospice of Franklin County for their outstanding service. A fund is being set up to provide ongoing support to Annette's four-legged children, her horses, Exquisite and Artemis Rose. Those interested in contributing may make checks out to Annette Olson, 20 Schoolhouse Road, Amherst 01002.
Daily Hampshire Gazette © 2010 All rights reserved