So Good To See You" MS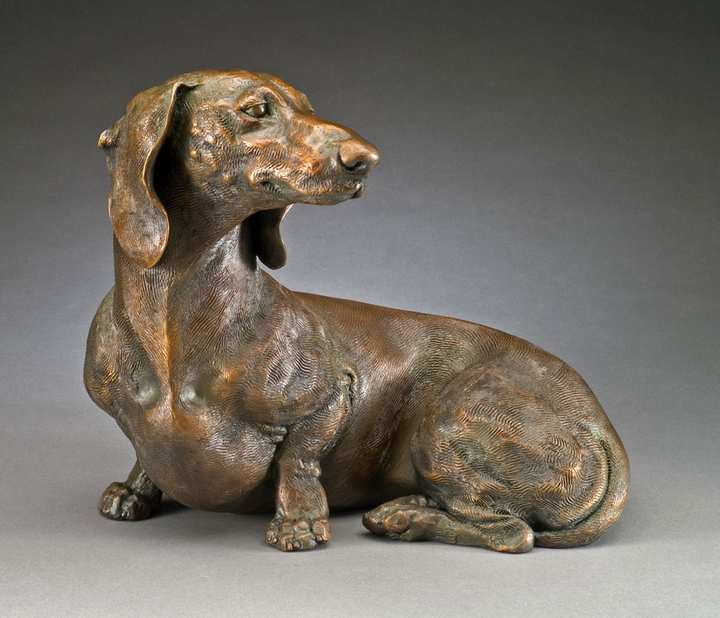 13 1/2"L x 11 5/8"H x 10 1/8"D Bronze Ed. 20 & 2 Artist's Proofs ©2003. Approx. 17 Pounds
Best Sculpture, Red River Valley Museum, Third Annual National Juried Exhibition, Vernon, TX.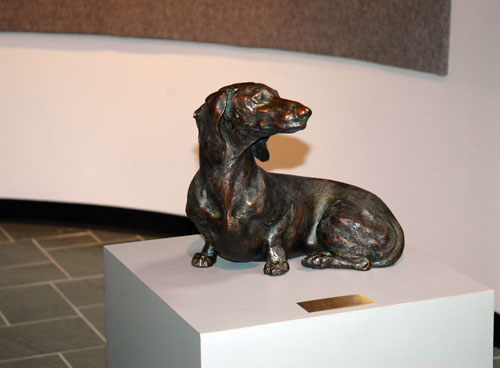 "So Good to See You" MS
Life-sized Miniature
PAWS & REFLECT: Art of Canines
Dunnegan Gallery
Bolivar, MO
Dunnegan photo: Joy Beckner
"So Good to See You" MS, toured with the 2007-2010 Paws & Reflect: Art of Canines museum traveling exhibition.
The original "So Good to See You" SS, Standard Smooth, was inspired by two beauties, Lizzie and Tess. My then ten-year-old Lizzie and I met young Tess in June 1999, at the Dachshund Club of America National Field Trial. Tess looked up from a tightly curled position, as if to greet a friend. It was magic! For the first time I memorized a pose -- the glorious curve following the left side of her ribcage to her slim waist and hips left an indelible impression on me.
Since 1996, when I was given Lizzie, I wanted to do a head study of her. The curved position provided the simplicity necessary to showcase her head. In addition, it fulfilled my desire to bring height to a sculpture of a naturally posed dachshund. My husband, Brian, inspired the title. He always told Lizzie, "It's so good to see you," about ten times when he returned from a trip. Many thanks to a Boulder, CO, dachshund aficionado for commissioning "So Good to See You" MS.
Each is signed, numbered and made by hand, one at a time in Colorado, USA. Each includes my mark,

. Enjoy!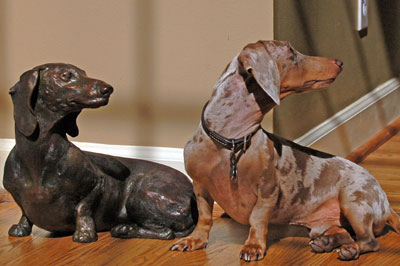 Art mimics life, or, does life mimic art?
"So Good to See You" MS with Smokey of Atlanta, GA.
Photography by Karen Sicner
Thank you, Karen!
Dachshund Definitions - Sizes and Coats
SS: Standard Smooth
SW: Standard Wirehair
SL: Standard Longhair
MS: Miniature Smooth
MW: Miniature Wirehair
ML: Miniature Longhair
1:6 Scale: Fits in a hand
Pieces may be commissioned in Smooth, Wire or Long coat.