So Good to See You, SS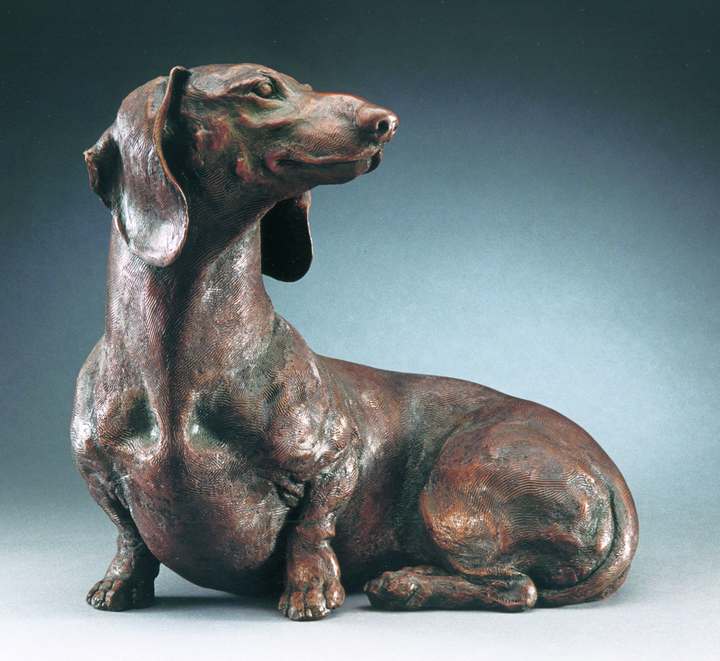 Life-sized Standard Smooth (SS) 16"L x 15"H x 12"D
Bronze Ed. 20 & 2 Artist's Proofs ©2000. Approx. 31-38 pounds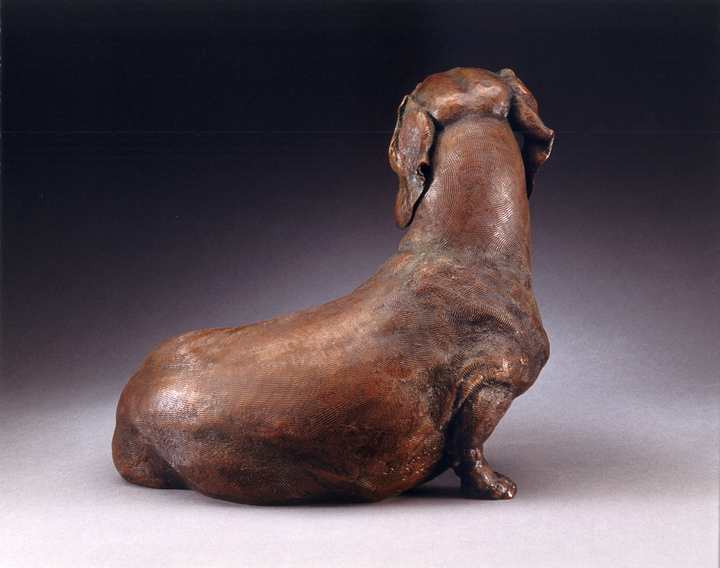 Purchase Award, The Ella Carothers Dunnegan Gallery of Art, Bolivar, MO.
Best Animal Sculpture, Viselaya Sculpture Competition, Concord, MA.
Best Sculpture, Red River Valley Museum, Third Annual National Juried Exhibition, Vernon, TX.
American Artists Fund Award, American Artists' Professional League, 74th Annual Grand National Exhibition, NYC.
Elliot Siskin Award for Representational Sculpture, Society of Animal Artists, 41st Annual Members Exhibition & National Museum Tour.
The Lindsey Morris Memorial Award, Allied Artists of America, Inc., 88th Annual Exhibition, NYC.
Paws & Reflect: Art of Canines, a Museum Traveling Exhibition, 2007-2010. Brochure cover photo!
"So Good to See You" SS, was inspired by two beauties, Lizzie and Tess. Ten-year-old Lizzie and I met young Tess in June 1999, at the Dachshund Club of America National Field Trial. Tess looked up from a tightly curled position, as if to greet a friend. It was magic. For the first time I memorized a pose -- the glorious curve following the left side of her ribcage to her slim waist and hips left an indelible impression on me.
Since 1996, when I was given Lizzie, I wanted to do a head study of her. The curved composition provided the simplicity necessary to showcase her head. In addition, it fulfilled my desire to bring height to a sculpture of a naturally posed dachshund.
"So Good to See You" SS, was juried into the National Sculpture Society Sculpture Society (NSS) 67th Annual Exhibition at Brookgreen Gardens, SC, and NYC. Also, in Spring 2000, the National Academy Museum showed "So Good to See You" SS, in its 175th Annual Open Exhibition, in NYC.
Each "So Good to See You" SS was made by hand, one at a time, in Colorado, USA. Each is signed, numbered and includes my mark,

Enjoy!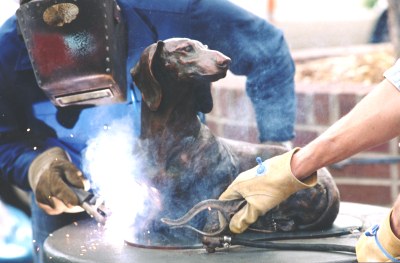 "So Good to See You, SS" being welded for exhibition in Grand Junction, CO.
Photo by Kitty Nicholason.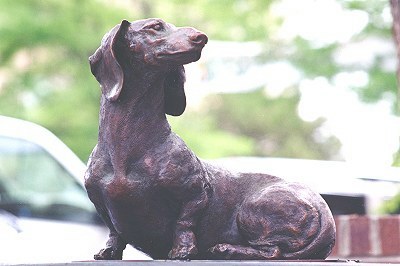 "So Good to See You" SS, exhibited in Grand Junction, CO.
Photo by Dillard Jenkins.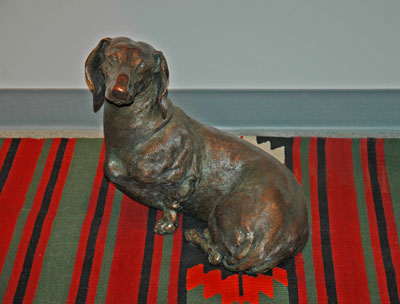 "So Good to See You" SS
Life-sized Standard
Permanent Collection
Dunnegan Gallery, Bolivar, MO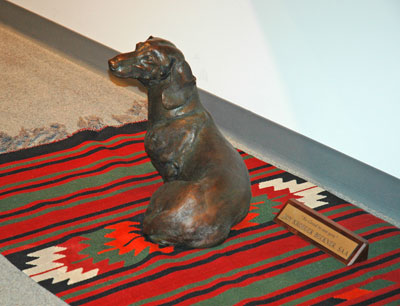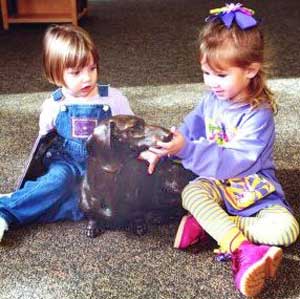 Children play with "So Good to See You" SS, at the opening of the Flower Mound
Library, as seen in the Hometown Star, a publication of the Star-Telegram,
Ft. Worth, TX, November 19, 2000. Photo by Brooks Whittington.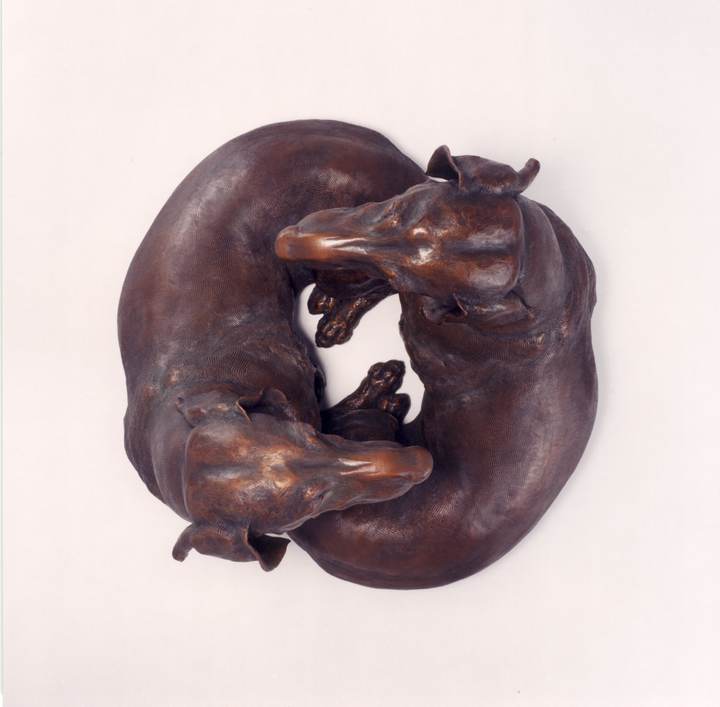 "So Good to See You" SS (top view of two)
Photography by Marty Keeven
Dachshund Definitions - Sizes and Coats
SS: Standard Smooth
SW: Standard Wirehair
SL: Standard Longhair
MS: Miniature Smooth
MW: Miniature Wirehair
ML: Miniature Longhair
1:6 Scale: Fits in a hand
Pieces may be commissioned in Smooth, Wire or Long coat.