"Siesta" SS Life-size Standard Smooth Dachshund Bronze Sculpture by Sculptor Joy Beckner


Available for Immediate Acquisition
"Siesta" SS, Standard Smooth, 20 1/2"L x 10 1/2"W x 6"H
Bronze Ed. 20 & 2 Artist's Proofs ©2005. Approx. 25 Pounds.
Phillip Eisenberg Award, 132nd Annual Members' Exhibition, Salmagundi Club, NYC
Gold Medal of Honor, Best Sculpture in Show, 70th Annual Exhibition, The Audubon Artists, NYC
C. Percival Dietsch Prize for a Sculpture in the Round, 72nd Annual Exhibition, National Sculpture Society, NYC.
The Anna Hyatt Huntington Horses Head Award, 2012 Annual Members Show, Catharine Lorillard Wolfe Art Club, Inc., NYC.
Kathryn Thayer Hobson Memorial Award, 84th Grand National Exhibition 2012, The American Artists' Professional League, NYC.
The Agop Agopoff Memorial Award, 79th Annual Exhibition, Hudson Valley Art Association, NY
Society of Animal Artists 45th Annual "Art and the Animal" Exhibition & Museum Tour
Paws & Reflect: Art of Canines, a Museum Traveling Exhibition, 2007-2010
When Lizzie came into my life on June 1, 1996, she was six-and-a-half years old. She lay on the kitchen rug where she fell asleep in this beautiful twisted position. Lizzie, DOB 11/23/89, is now fifteen years old and over all these years she often napped in this S-curve. The hills and valleys of her body remind me of the Flint Hills in Kansas; they are beautiful to my eye and ideal for a sculpture in the round. She is in this position under my desk as I type now.
While visiting my mother-in-law Jeanne, Lizzie ventured into the tomato bed. She entangled herself among the vines and, after eating her fill, emerged covered with pollen and she smelled great -- just like fresh tomatoes! Then the little opportunist climbed onto the dining room table and ate a whole plate of meat! She'd never done that before. Belly full, she fell sound asleep under the table where I was finishing the life-sized miniature "So Good to See You." While she was in 'the dog house' Jeanne commented that she was taking a siesta. That's when Lizzie sleeping in her S-Curve became "Siesta."
Each "Siesta" is hand made, one at a time in Colorado, USA. Each is signed, numbered and includes my mark,

Enjoy!
May "Siesta" bring you peace.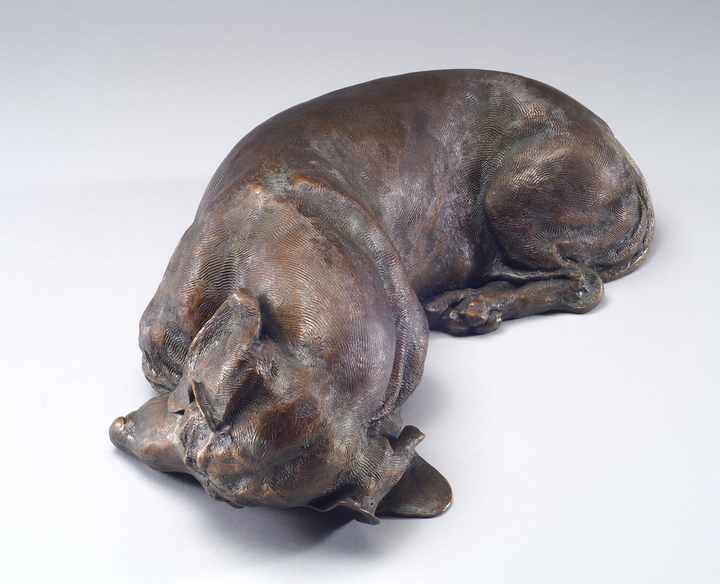 "Siesta" SS
Life sized Standard
PAWS & REFLECT: Art of Canines, May 6 – June 15, 2007
Dunnegan Gallery, Bolivar, MO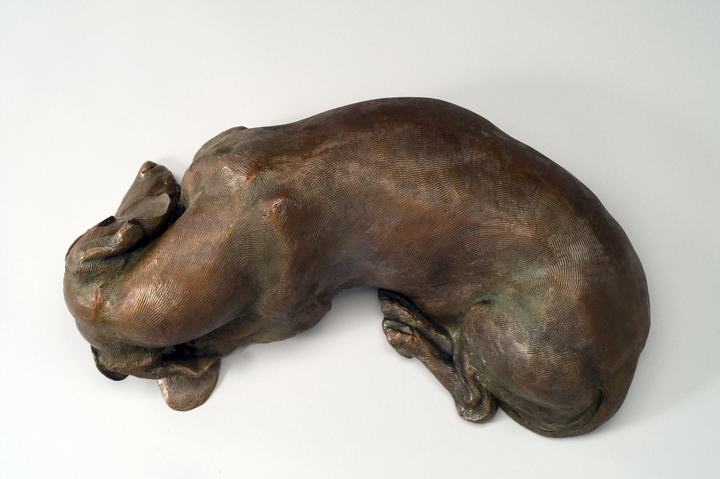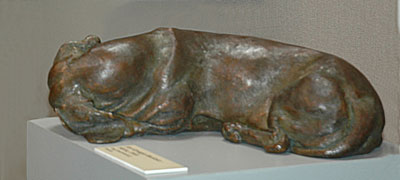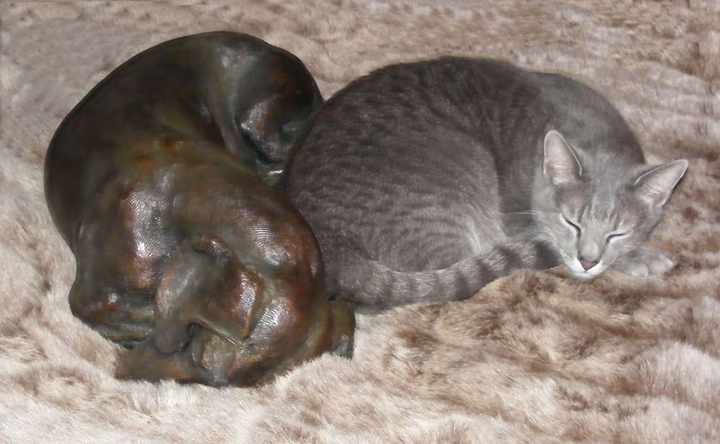 Buddy's BuddySan Antonio, TX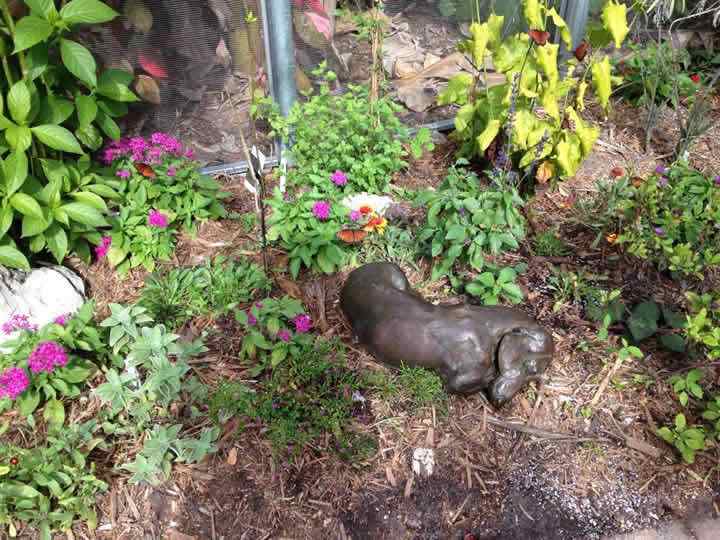 "Siesta" SS snoozes in the butterfly house at the Naples Botanical Garden, Naples, Florida.
This 2015 exhibition "All Things Great and Small" was juried in conjunction with the National Sculpture Society.
Photo by Sheree Colacino-Lambert.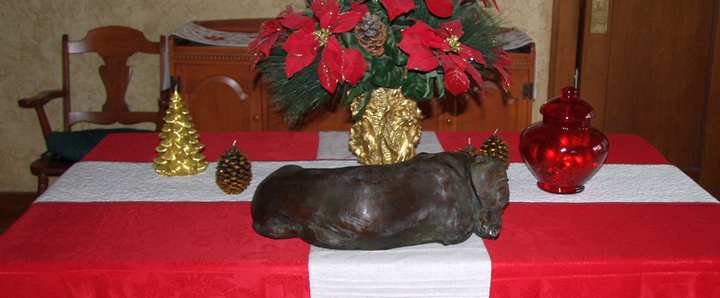 "Siesta" SS graces the holiday table of a collector in Colorado Springs.
Thank you, Lisa!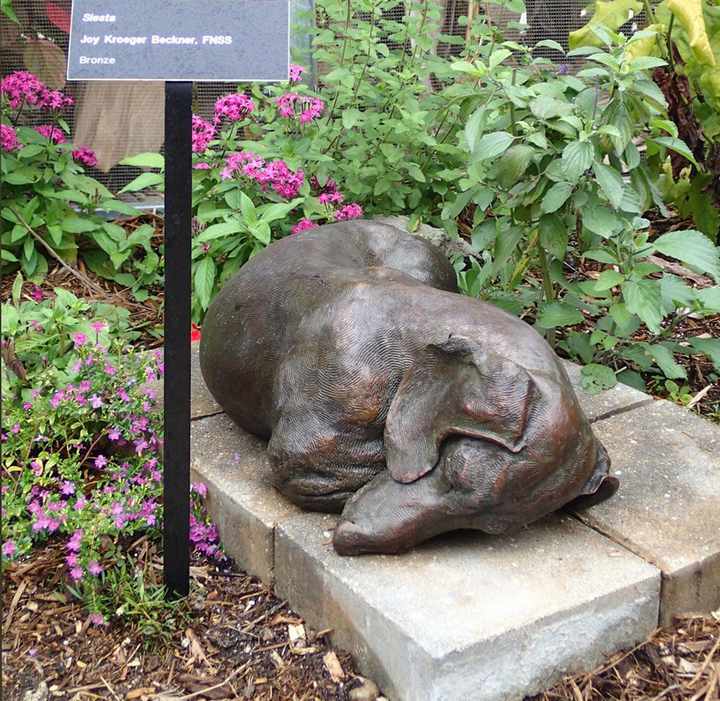 "Siesta" Snoozes Soundly in the Butterfly House at the Naples Botanical Garden in January 2015.
Photo by fellow exhibitor, George McMonigal.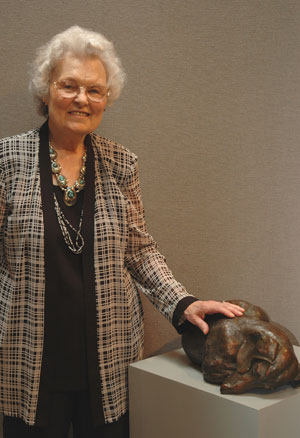 Wanda Wainscott, Director Emeritus Dunnegan Gallery
Dunnegan photos: Joy Beckner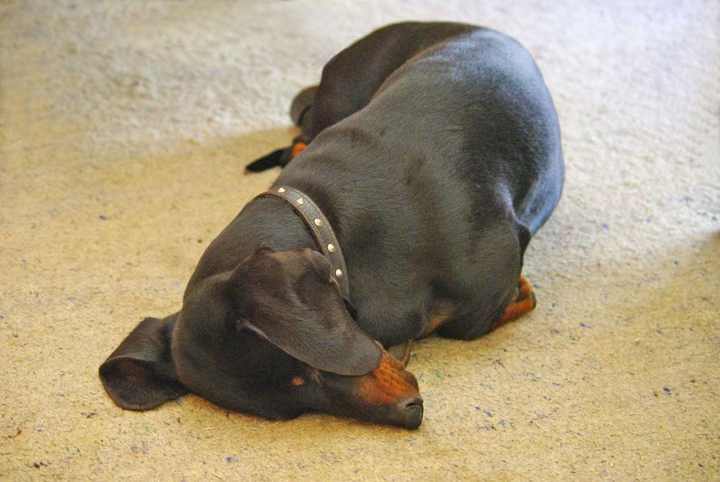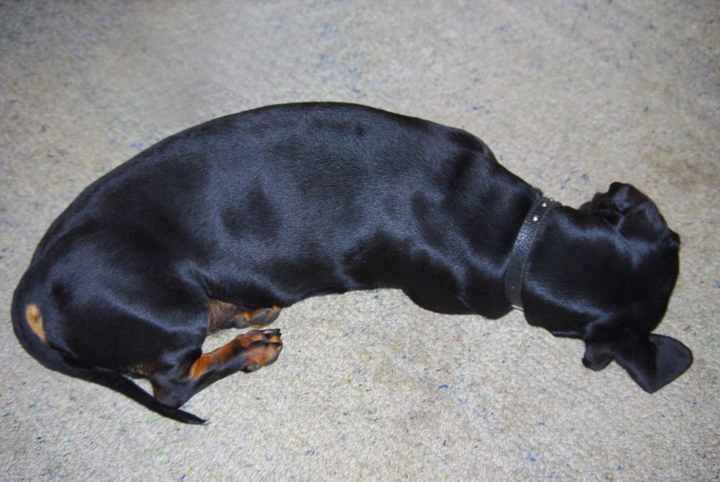 The Sinuous Form of the Recumbent Dachshund
A "Siesta" look alike from South Australia
Marianne Wakelin Photography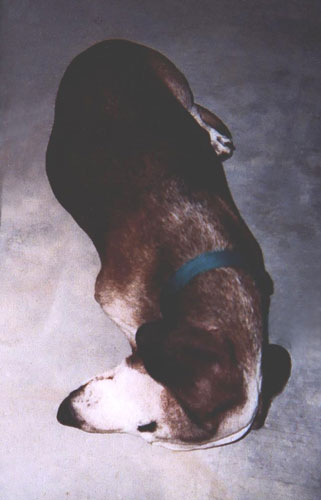 Miss Lizzie, my inspiration for "Siesta"
Dachshund Definitions - Sizes and Coats
SS: Standard Smooth
SW: Standard Wirehair
SL: Standard Longhair
MS: Miniature Smooth
MW: Miniature Wirehair
ML: Miniature Longhair
1:6 Scale: Fits in a hand
Pieces may be commissioned in Smooth, Wire or Long coat.