Life is Sweet, SS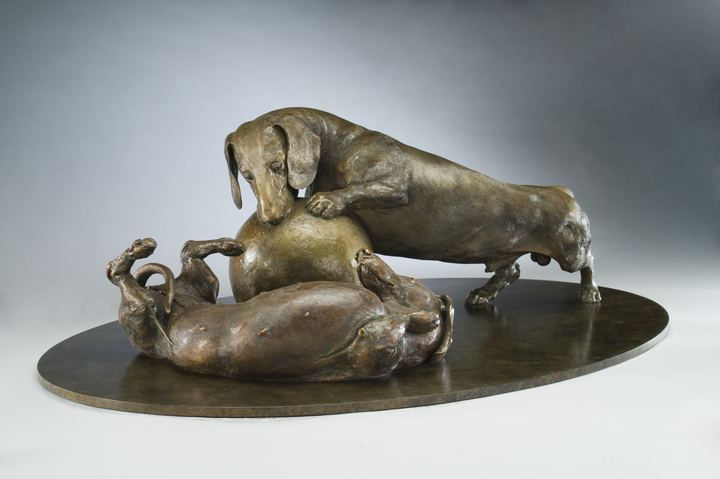 Life-size Standard Smooth (SS) 48"L x 30"W x 15½"H
Bronze, Unique. ©2005 & 1998. Approx. 250 Pounds.
"Life is Sweet" toured with the 2007-2010 invitational, museum traveling show, Paws & Reflect; Art of Canines.
"Life is Sweet" is my 2014 gift to the permanent collection of the American Kennel Club Museum of the Dog, St. Louis, MO.
In early 2019, the AKC Museum moved to a smaller space in New York City and could not take their entire collection. A prominent St. Clair County, IL collector of works by Washington University artists, adopted "Life is Sweet." Thank you!
"Sweet Roll" SS, and "Life's a Ball!" SS, play together as "Life is Sweet." Each dog is from its own edition of 20. This combination, mounted on bronze plate and known as "Life is Sweet" is one of a kind. Of course, you may simply place the individual dogs together if you prefer to see them play in a secure setting. "Life is Sweet" is sure to bring smiles either way.
"Life is Sweet" was made by hand in Colorado, USA. Each bronze dog is signed, numbered and includes my mark,

Enjoy!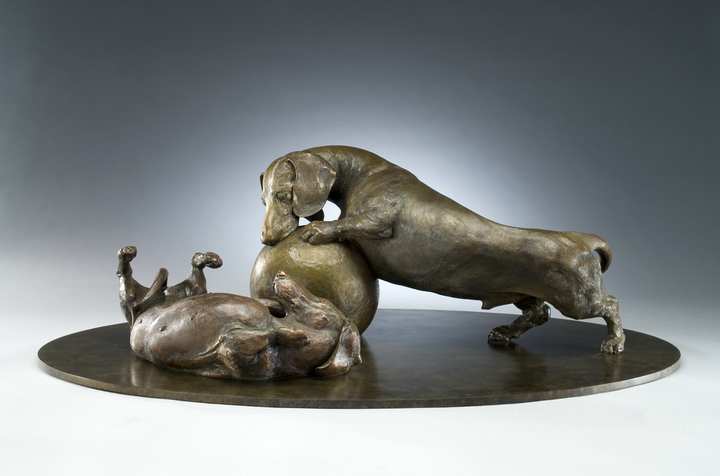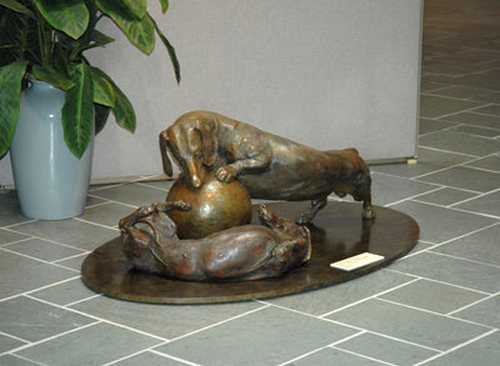 "Life is Sweet" PAWS & REFLECT: Art of Canines, May 6 - June 15, 2007 Dunnegan Gallery, Bolivar, MO
Photo: Joy Beckner
Dachshund Definitions - Sizes and Coats
SS: Standard Smooth
SW: Standard Wirehair
SL: Standard Longhair
MS: Miniature Smooth
MW: Miniature Wirehair
ML: Miniature Longhair
1:6 Scale: Fits in a hand
Pieces may be commissioned in Smooth, Wire or Long coat.