A Good Life, SS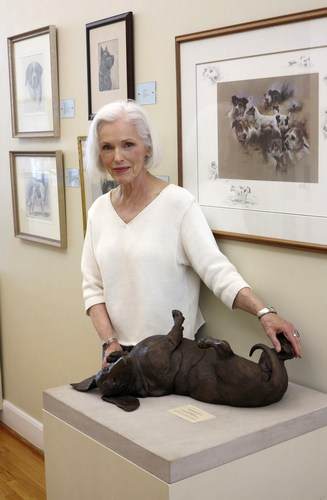 "A Good Life" SS. Shown with Joy at the AKC Museum show, The Dachshund in Art, May 2013.


"A Good Life" SS, Number 6/20, is looking for someone to love. Her first lover is no longer with us.
National Sculpture Society, "Fellows Favorites" Exhibition. 2020 Online.
The Phillip Isenberg Memorial Award in the Salmagundi Club Annual Members Exhibition. 2020 Online.

Life-sized Standard Dachshund (SS) 25 1/2"L
Bronze Ed. 20 & 2 Artist's Proofs ©1996. Approx. 25 pounds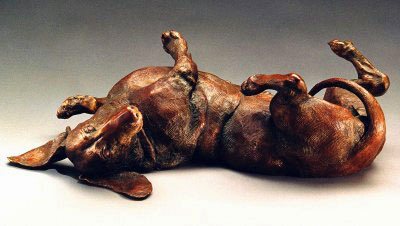 4 Best-in-Shows
National Sculpture Society Silver Medal
Original purchased for the AKC Museum of the Dog
This work depicts a position every dog enjoys, stretching and massaging its back. Modeled life-sized from life, from nature, and a bit from photographs, it is a loving combination of Anna and Lizzie, whom you are about to meet.
In the Spring of 1996, though her health was failing, our dear Anna posed on her back in her bed through about two-thirds of this clay. She appeared to be comfortable, though she had heart and bladder problems. Anna died during the early hours of May 7. Through tears, I did the hardest thing I have ever done. I completed a front foot and a back foot. I worked on one side of her face and by 5 o'clock I could do no more. I buried my friend in the grave my husband, Brian, had dug earlier in the day.
For three weeks, I could not go into my studio. May 31, 1996 was the Dachshund Club of St. Louis Specialty Show. At the invitation of my dachshund anatomy mentor, Judge Weldon Long, I took Dreaming of Tomatœs, and told breeders I was looking for a new model -- a standard, smooth, mahogany bitch with a good head. I would show her only through my sculpture. Springfield, MO breeder, Rita Toombs, came to my rescue with a gorgeous, retired, spayed, show girl, Braaehaus Hometown Girl, call name, Lizzie. I told Brian all about her and the very next day we drove six hours to get her.
Two days after Lizzie came home, I started to finish "A Good Life". I was particularly interested to see the differences between Anna and Lizzie, who is from the top Canadian breeder. The head evolved into Lizzie's head but the body is essentially Anna's. The necessity of using two models was a blessing. The piece could not have been as exciting otherwise! Friends kept saying what 'a good life' Anna had. Naming this piece was much easier than making it.
"A Good Life" SS, 25 1/2"L, number 1/20, was completed in bronze August 2, 1996. Each "A Good Life" SS was made by my hand selected specialists in the USA. All are signed and numbered. Later casts include my mark

Enjoy!
"A GOOD LIFE" SS, SELECTED AWARDS
2020
Phillip Eisenberg Memorial Award, Salmagundi Club Annual Members' Exhibition. Online
1999

Best-in-Show, Second National American Women Artists Competition, Total Arts Gallery, Taos, NM.
Silver Medal and John Cavanaugh Memorial Prize, 66th Annual Exhibition, National Sculpture Society, NY.
Past Presidents' Award, 34th International Exhibition, Fine Arts Institute at the San Bernardino County Museum, Redlands, CA.
1998

Ellin P. Speyer Prize, 173rd Annual Exhibition, National Academy Museum, NY.
Anna Hyatt Huntington Cash Award, 102nd Annual Open Exhibition, Catharine Lorillard Wolfe Art Club, NY.
The Barbara Shoemaker Award, Confluence 1998, the 26th Annual National Juried Painting and Sculpture Exhibition The Hill Country Arts Foundation, Ingram, TX.
Judge's Award, 11th Annual International Exhibition of Animals in Art, Louisiana State University School of Veterinary Medicine, Baton Rouge, LA.
1997

Best-in-Show, Best Sculpture, Best Dachshund, Best Missouri Artist, Purchase Award, Awarded to the American Kennel Club Museum of the Dog, St. Louis, MO, by the 11th Annual Exhibition, Art Show at the Dog Show, Wichita, KS.
Best in Show, 10th Annual Dog Art Competition, Dog Fanciers Club, Inc., New York, NY.
First Place Three Dimensional Award, Third Annual Regional Exhibition, Artists of Northwest Arkansas, AK.
Ella Jens Boeschenstein Memorial Sculpture Prize, 84th Annual Sculpture Exhibition, St. Louis Artists' Guild, Clayton, MO.
What they said...
"Top dog! A Good Life, a bronze by Joy Kroeger Beckner of Chesterfield, MO, earned Best-in-Show and the first-place award for sculpture at the Art Show at the Dog Show. Nearly 300 artists entered 653 works in the 11th annual show, the nation's premier, juried, fine-arts competition devoted to canine art." Wichita Eagle, April 1997
"Joy Kroeger Beckner's 'Best-in-Show' bronze dachshund (exemplifies) compositional vivacity." Dr. Novalene Ross, Chief Curator, Wichita Art Museum.
"I was especially taken with the magnificent bronze sculpture of a dachshund. Titled 'A Good Life' this Best-in-Show winner will have a prominent place at the American Kennel Club Museum of the Dog, St. Louis, MO." Ronald H. Menaker, Director of The American Kennel Club.
Dachshund Definitions - Sizes and Coats
SS: Standard Smooth
SW: Standard Wirehair
SL: Standard Longhair
MS: Miniature Smooth
MW: Miniature Wirehair
ML: Miniature Longhair
1:6 Scale: Fits in a hand
Pieces may be commissioned in Smooth, Wire or Long coat.