Sunnyside Up, Long 1:6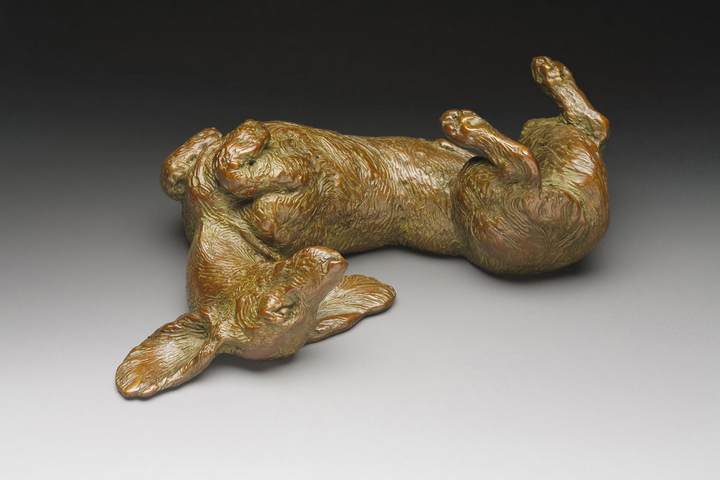 Available for Immediate Acquisition
"Sunnyside Up" Long 1:6 Scale 4 3/4"L x 2 3/4"W x 1 1/2"H
Bronze Ed. 50 & 5 Artist's Proofs ©2009
Approx. 1 pound
Honorable Mention, 34th Annual Exhibition Miniature Art 2018, The Council for the Arts of Chambersburg, PA
Every morning Edgar hopped out of bed and rolled around, actively arching his back to get a full frontal stretch and -- a complete back massage. That feels good! I thank my husband Brian for the perfect title he created years before Edgar lost his family jewels due to prostate problems at age five. Many thanks to Diane Jones, Sandy Patterson and Pam Reed for making this piece possible through sharing pertinent pictures of their boys. Of course, I continue to be grateful to the late Judge Weldon Long, who taught me Dachshund Anatomy 101. Many thanks too, to the gentleman who commissioned this piece in smooth coat to play with "Life's a Ball" in "Pals".
Each "Sunnyside Up" is made by hand, one at a time, in Colorado, USA. Each is signed, numbered and includes my mark,


May "Sunnyside Up" bring a smile to your face and a giggle to your heart.
Enjoy!
Don Casper Photography

Dachshund Definitions - Sizes and Coats
SS: Standard Smooth
SW: Standard Wirehair
SL: Standard Longhair
MS: Miniature Smooth
MW: Miniature Wirehair
ML: Miniature Longhair
1:6 Scale: Fits in a hand
Pieces may be commissioned in Smooth, Wire or Long coat.