Pals, Wire 1:6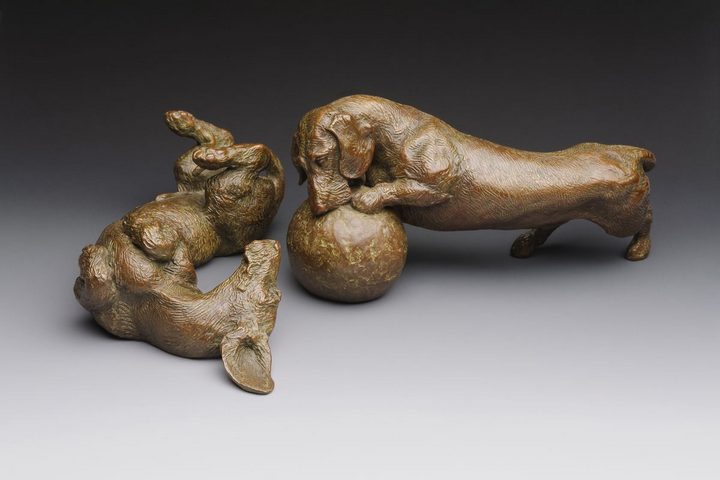 Available for Immediate Acquisition
"Pals" Wire 1:6 Scale Bronze ©2009
Approx. 2.5 Pounds
"Sunnyside Up" Wire 1:6 Scale: 4½"L x 2½"W x 1½"H
Bronze Ed. 50 & 5 Artist's Proofs ©2009
Approx. 1 Pound
"Life's a Ball" Wire 1:6 Scale: 4¾"L x 2¼"H x 1½"D
Bronze Ed. 50 & 5 Artist's Proofs ©2009
Approx. 1.5 Pounds
"Sunnyside Up" Wire" and "Life's a Ball" Wire" are "Pals" playing together. Created by combining the two wirehaired boys, "Pals" is sure to bring smiles any way you display them.
Each "Pals" Wire is made by hand in the USA. Each dog is signed and numbered. Edition size of "Pals" Wire depends on the number available of each individual out of its own edition. I invite you to double your pleasure with these two bronze boys.
"Joy: I'm sitting here at my breakfast room table playing with "Sunnyside Up" and "Life's a Ball" like a little boy re-arranging toy soldiers. These two pieces should ALWAYS be sold as a matched pair. What fun!!! Thanks again." John O., Shreveport, LA.
Each "Pals" Wire is made by hand, one at a time in Colorado, USA.
Each bronze dog is signed, numbered and includes my mark,

.
Enjoy!
Don Casper Photography

Dachshund Definitions - Sizes and Coats
SS: Standard Smooth
SW: Standard Wirehair
SL: Standard Longhair
MS: Miniature Smooth
MW: Miniature Wirehair
ML: Miniature Longhair
1:6 Scale: Fits in a hand
Pieces may be commissioned in Smooth, Wire or Long coat.