Life is Good, Wire 1:6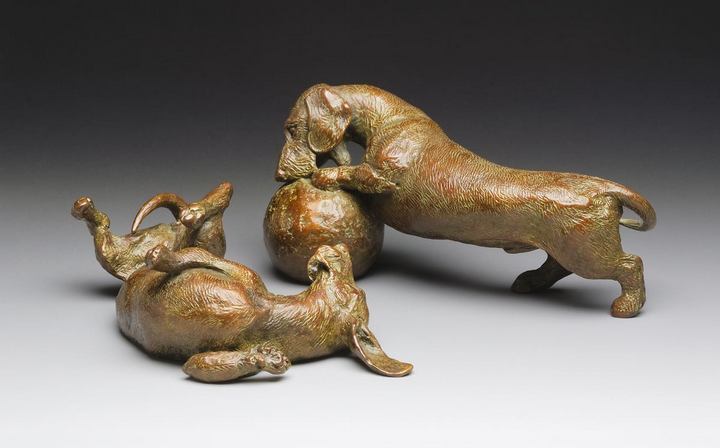 "Life is Good" Wire 1:6 Scale Palm-sized. Two Parts.
Bronze Limited Edition ©2009 & 2011
Approx. 1-2 Pounds
"A Good Life" Wire, 1:6 Scale, 4 3/4"L x 1 3/8"H x 2 1/2"D
Bronze Ed. 50 & 5 Artist's Proofs ©2011
Approx. 1 Pound
"Life's a Ball!" Wire, 1:6 Scale 4 3/4"L x 2 1/4"H x 1 1/2"D
Bronze Ed. 50 & 5 Artist's Proofs ©2009
Approx. 1.5 Pounds
"Life is Good" is a combination of two pieces, "Life's a Ball!" and "A Good Life." A collector once mused that, when they are placed this way, they look like they are both playing with the ball. I agree! I mounted the two life sized standard smoothes to a steel base to first show "Life is Good" in the 2001-2002 Heart of Evergreen Sculpture Walk, Evergreen, CO. Only one standard pair is mounted together, "A Good Life" #17/20, and "Life's a Ball! #8/20. Lizzie and Edgar, as "Life is Good," greet potential friends with love and great glee in Maryland.
Each is made entirely by hand in Colorado, USA. Each is signed, numbered and includes my mark,


Each is from its own edition that is limited to 50.
Enjoy!
Don Casper Photography

Dachshund Definitions - Sizes and Coats
SS: Standard Smooth
SW: Standard Wirehair
SL: Standard Longhair
MS: Miniature Smooth
MW: Miniature Wirehair
ML: Miniature Longhair
1:6 Scale: Fits in a hand
Pieces may be commissioned in Smooth, Wire or Long coat.