"Her Life's a Ball!" 1:6 Scale Smooth Dachshund Bronze Sculpture by Sculptor Joy Beckner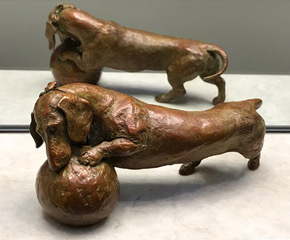 1:6 Scale, 4 3/4"L x 2 1/4"H x 1 1/2"D • Bronze, Ed. 50 & 5 Artist's Proofs ©2017
Awards earned by "Life's a Ball!" 1:6 Scale – Partial List
First Place, Casper Artists' Guild, Inc., 12th Annual International Miniature Exhibition. Casper, WY.
Second Place, 3D, Fourth Annual Miniature Show, Blackhawk Gallery, Sarasota, WY.
Third Place, Sculpture, 78th Annual International Exhibition of Fine Art in Miniature, Miniature Painters, Sculptors & Gravers Society of Washington, DC.
The bow on my sterling pinky ring inspired me to make and place a pretty bow on this girl playing with her ball. After all, many girl dogs wear collars with bows, so I decided to make "Her Life's a Ball!"
Originally, my standard, smooth dachshund, Ch. Retdachs Brwneyed Hansomboy, Edgar, inspired the life-sized bronze, "Life's a Ball!" As a puppy, he often played with his Buster Cube™. He would twist and turn his body while trying to wrestle food out of this toy. His contortions, strength and determination fascinated me. The cube evolved into a ball, "On the Ball." The pup evolved into a "man" and the ball into a bigger ball. Edgar was a happy, outgoing boy; HE inspired the title! "Life's a Ball!" has earned numerous awards in miniature exhibitions over the years. Now, enjoy "Her Life's a Ball!"
Crafted in Colorado, USA, by hand, one at a time, each is signed and numbered and each includes my mark,

. Enjoy!
Professional photography will follow in March 2018.

Dachshund Definitions - Sizes and Coats
SS: Standard Smooth
SW: Standard Wirehair
SL: Standard Longhair
MS: Miniature Smooth
MW: Miniature Wirehair
ML: Miniature Longhair
1:6 Scale: Fits in a hand
Pieces may be commissioned in Smooth, Wire or Long coat.