Dreaming of Tomatoes, Smooth 1:6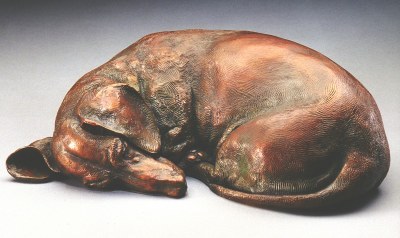 "Dreaming of Tomatoes" Smooth 1:6 Scale: 2 7/8"L x 1"H x 2"D
Bronze Ed. 99 & 9 Artist's Proofs ©1998
Approx. 1 Pound
Award, Miniature & Small Show 1999, Artists Atelier of Atlanta, GA
6th International Miniature Show, Seaside Art Gallery, Nags Head, NC
Miniature Art Exhibition, St. Louis Artists' Guild, MO
Our twelve-year-old, standard, smooth dachshund, Anna von Pumpernickel Gesundheit, modeled for this, my second animal sculpture and the first to be cast in bronze. Anna's age and health inspired the piece. Anna was with me while I was putting up Christmas lights when I realized she was nowhere in sight! She had sneaked to the tomato bed where she was looking for ripe, summertime tomatoes! That's when Anna, in bronze, became "Dreaming of Tomatoes" SS. The clay was completed in December 1995 and the first bronze was cast in February 1996. "Dreaming of Tomatoes" SS was accepted in the first national exhibition I entered, The Art Show at the Dog Show, 1996.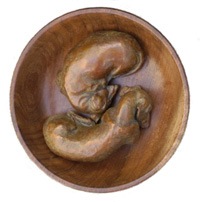 "Cuddling Dachshunds"
'I still remember the day I walked into Chaparral and saw 'Dreaming of Tomatoes.' I picked it up and never put it down. So, when I saw 'Siesta' in the same patina, I just had to have it. I wanted them to be together, so when I saw this position...well, putting them in a wooden bowl just seemed like the perfect way to let them snooze in peace.' Gayla Wiedenheft, MT.
Each was made by hand, one at a time in the USA. In late1999, I limited the edition of "Dreaming of Tomatoes" Smooth 1:6 Scale, to 99. Below the 40's, each is simply signed and numbered. All were hand made in the USA.
Enjoy!
Cuddling Dachshunds
Photo by Gayla Wiedenhaup
"Dreaming of Tomatoes" Smooth, 1:6 Scale, #62/99, with a light red & green patina, was stolen from Shippers Supply, Loveland, CO, in Spring 2001.
If you know the whereabouts of this piece, please contact me! Thank you!

Dachshund Definitions - Sizes and Coats
SS: Standard Smooth
SW: Standard Wirehair
SL: Standard Longhair
MS: Miniature Smooth
MW: Miniature Wirehair
ML: Miniature Longhair
1:6 Scale: Fits in a hand
Pieces may be commissioned in Smooth, Wire or Long coat.