Dream Chasers – Best of Breed 1:6





Special Order
"Dream Chasers - Best of Breed"1:6 Scale: 19"L x 2"W x 3.5"H
Bronze Ed. 20 & 2 Artist's Proofs ©1999
Approx. 12 Pounds
First Place, Sculpture, Fifteenth Contemporary American Dog Art Competition, Dog Fanciers, Inc., NYC
Second Place, Animal Art, out of 2000+ Entries in The Artist's Magazine's 16th Annual International Competition
The Dachshund on the Move, June 2013, by AKC Judge Dan Harrison
Posted with Permission
Dan Harrison, Editor
and
Dawn-Renee Watters, Owner
The Dachshund History Project
Dream Chasers - Best of Breed" is an animated study of the movement of three proud dachshunds, one in each coat, smooth, wire-haired and long-haired. Mounted together as in a show ring, each animal is trotting in different positions, and chasing the dream of being Best of Breed.
Robert Cole's sequential drawings of the dachshund trot were primary references for my ambitious interpretation of the three-dimensional standard of dachshunds in motion
Each "Dream Chaser" is mounted by hand to a handmade, two-ply bronze base. While this sculpture may appear strong, the strength is an illusion! The delicate mountings and base patina are fragile. Protect from scratches, handle with love and care, and gently lift by the base.
Each is made by hand in Colorado, USA. Each dog is signed and numbered. Later casts include my mark,

.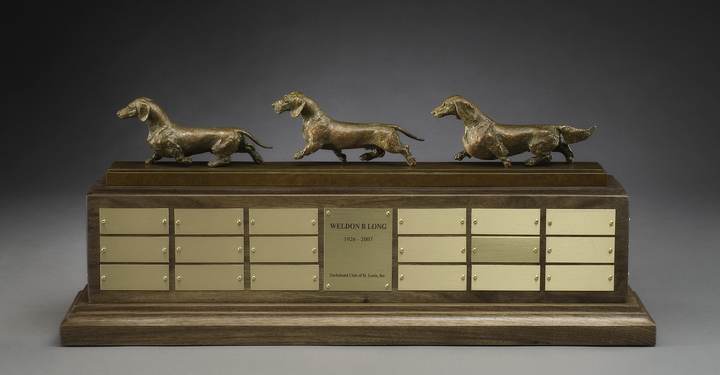 Weldon B Long Memorial
The Weldon B Long memorial came about as a combined effort of the Dachshund Club of St. Louis and Joy Beckner, the sculptor.
To learn more about this nearly perpetual memorial – there are 45 plaques on it -- please click here to read about it on the Dachshund Club of St. Louis site.
Regarding The Dachshund Club of St. Louis Logo, Joy Kroeger Beckner granted permission for the Dachshund Club of St. Louis to use her image of her sculpture "Dream Chasers - Best of Breed" as their logo, with artists credit and photo credit for Mel Schockner, where size permits.
The actual digital rendering of Joy's design with her sculpture and the St. Louis Arch was created by a person at Onofrio Dog Shows in the early 2000s. It seems fitting to memorialize Weldon B Long with this sculpture since, as Joy's anatomy mentor, he taught her Dachshund Anatomy 101. We all miss Weldon. What a sweet guy and oh, did he like to share stories!
Enjoy!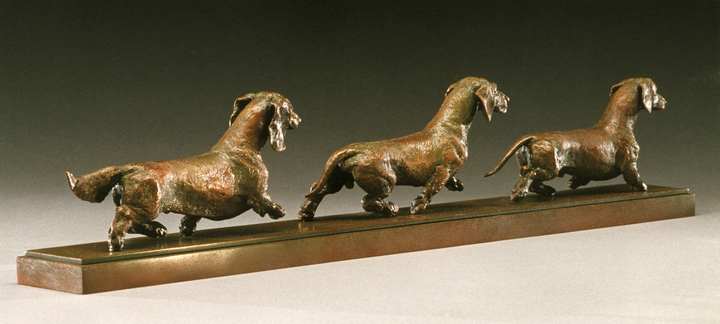 Dachshund Definitions - Sizes and Coats
SS: Standard Smooth
SW: Standard Wirehair
SL: Standard Longhair
MS: Miniature Smooth
MW: Miniature Wirehair
ML: Miniature Longhair
1:6 Scale: Fits in a hand
Pieces may be commissioned in Smooth, Wire or Long coat.