All in the Family, 1:6 Scale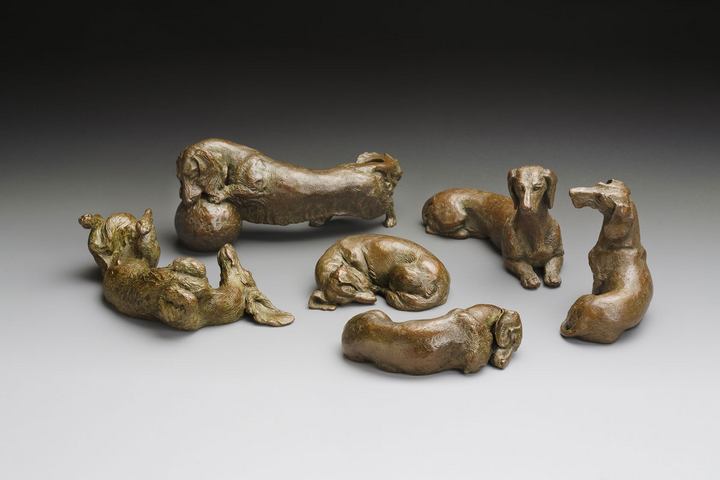 Available for Immediate Acquisition
Approx. 10½"L x 7"D x 2½"H Bronze
Clockwise from the Left: "Sunnyside Up" Long,
"Life's a Ball" Long,
Lord of the Couch" Smooth,
"So Good to See You" Wire, "Siesta" Smooth.

Center: "Dreaming of Tomatoes" Long.
This little group simply shows how one might display their family of bronze dachshunds, or how to create an instant collection of 1:6 Scale Miniatures! Here, dachshunds are shown in a variety of coats. Mix and match to your pleasure. If you wish to have a sculpture in a coat I haven't made, simply commission me to make the piece! Shown in the Toad patina, all are also available in Black & Tan patina.
Each bronze is signed and numbered out of its own edition.
Each is made by hand in Colorado, USA, and each includes my mark,

.
Enjoy!
Don Casper Photography

Dachshund Definitions - Sizes and Coats
SS: Standard Smooth
SW: Standard Wirehair
SL: Standard Longhair
MS: Miniature Smooth
MW: Miniature Wirehair
ML: Miniature Longhair
1:6 Scale: Fits in a hand
Pieces may be commissioned in Smooth, Wire or Long coat.