A Good Life, Smooth 1:6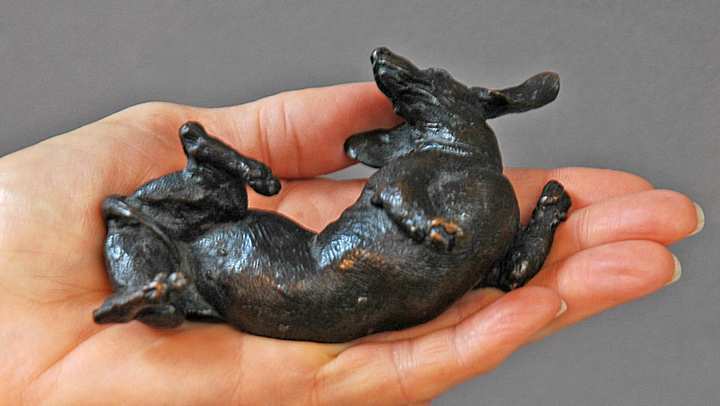 "A Good Life" Smooth, 1:6 Scale, 4 3/4"L
Bronze Ed. 99 & 9 Artist's Proofs ©1997
Approx. 1 Pound
Each was made by hand one at a time in Colorado, USA. . Enjoy!
Life-sized Standard or Miniature Wire or Long Coat by Commission.
AWARDS earned by "A Good Life" Smooth 1:6 Scale:
6th International Miniature Show, Seaside Art Gallery, Nags Head, NC
13th Annual Exhibition of Miniature Art, Chambersburg Council for the Arts, Chambersburg, PA
16th Annual Women's National Juried Exhibition, National League of American Pen Women, Springdale, AR

Dachshund Definitions - Sizes and Coats
SS: Standard Smooth
SW: Standard Wirehair
SL: Standard Longhair
MS: Miniature Smooth
MW: Miniature Wirehair
ML: Miniature Longhair
1:6 Scale: Fits in a hand
Pieces may be commissioned in Smooth, Wire or Long coat.