Fine Art Luxury Jewelry Pendant: Three Dimensional Head: Bouvier des Flandres Natural Ears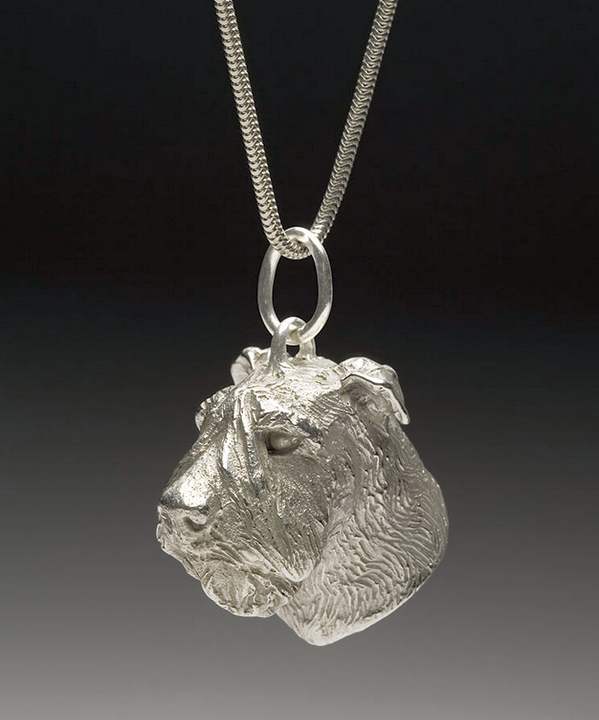 The Joy Beckner Collection of Fine Art Luxury Jewelry

Item P3D:BNE
1 11/16"W x 1 3/8"H x 1"D
Silver Ed. 5 & 1 Artist's Proof ©2008
Suspended on Joy's Favorite Silver Serpent Chain with Toggle Clasp
This wearable proclamation of love about your favorite Bouvier des Flandres with natural ears is both three dimensional sculpture and a protective talisman. Worn on a sensuous serpentine chain, it can be suspended as shown, or you can loop a 32" chain into an elegant knot. If your personal style leans toward the dramatic, this is the pendant for you!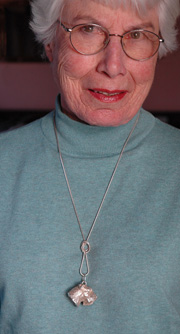 Charlotte Peltz, My Dog Guru!
Each is signed, numbered and includes my mark,

.
Made by Hand in Missouri.
Special Order
Enjoy!
Don Casper Photography
Charlotte Peltz, my Dog Guru, is shown wearing her Bouvier des Flandres Natural Ears pendant with Joy's Favorite 32" serpent chain, shown knotted. To give you an idea of proportion, Charlotte is about 5'6" tall. Charlotte authored articles under "Living with your Dog"