Fine Art Luxury Jewelry Buckle: Dachshund Wire Coat
Available for Immediate Acquisition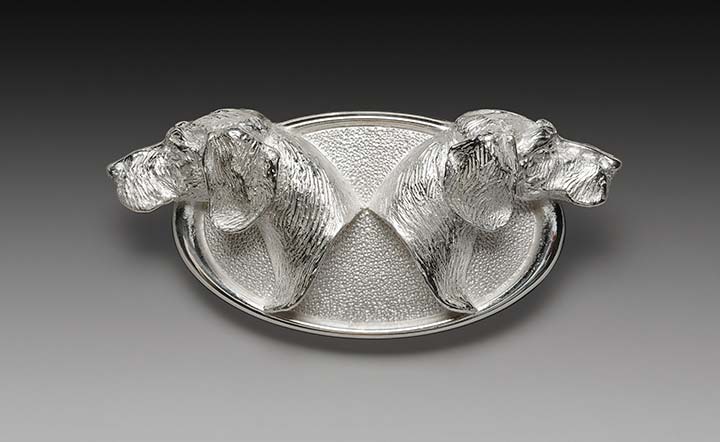 The Joy Beckner Collection of Fine Art Luxury Jewelry

Item B:DW
3 3/4"L x 1 5/8"H x 1"D
Sterling Silver Ed. 20 & 2 Artist's Proofs ©2001
A subtle sign of success, a sterling silver buckle is an accessory that emphasizes your individual style. And, when paired with your choice of fine leather straps, it can be worn with everything from jeans to dressy clothing.
"Coming & Going" is the story of our lives and is the inspiration for a buckle with a curved "X" formed by the outward facing heads of a pair of smooth-coated dachshunds.
Each dachshund "Coming & Going" buckle is presented fresh and bright as a baby's bottom as shown above.
You may polish yours to keep it shiny or let Mother Nature give your buckle a rich patina as shown below.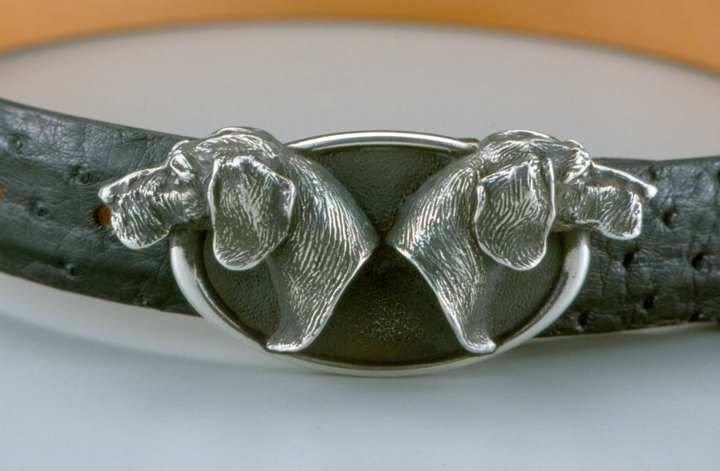 The "Coming & Going" buckle is sized for belts up to 1 1/4" wide.
Each is presented in a colorful cotton velvet drawstring pouch.
Each is signed, numbered, and include my mark,

.
Hand Made in Missouri.
Enjoy!
Top Photo: Don Casper
Bottom Photo: Mel Schockner