Scott Joplin Human Bronze Sculpture by Joy Beckner Bronze Sculptor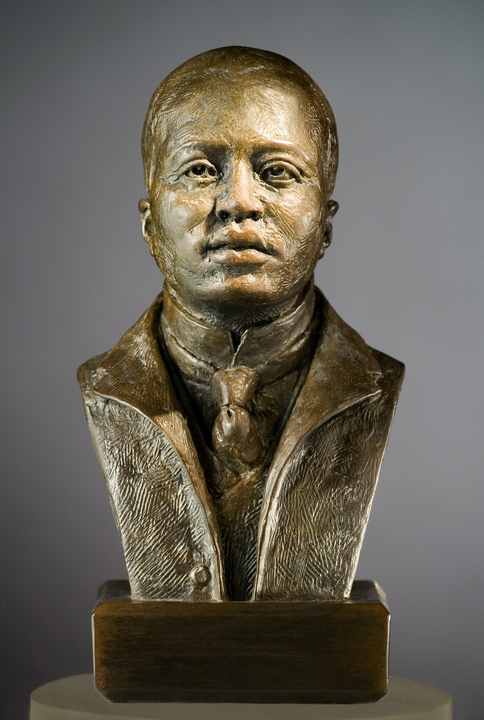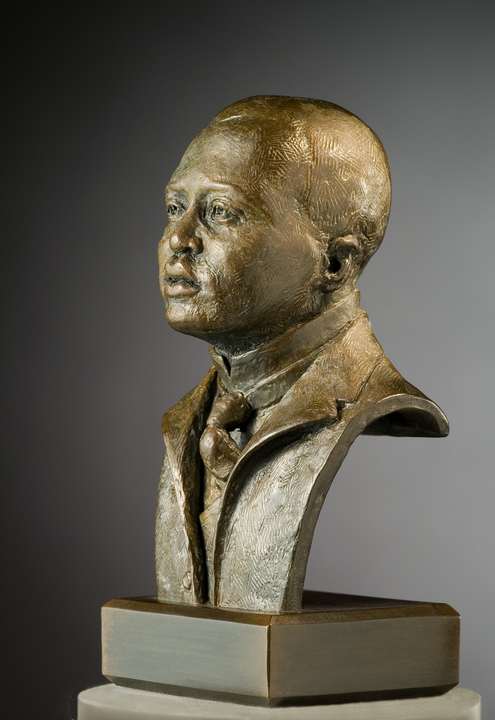 5 1/4"H x 2 5/8"W x 2 3/8"D
Bronze Ed. 20 & 2 Artist's Proofs ©1992
First cast in edition :: 2005
Approx. 3 1/4 pounds
The City of Gabriels, Jazz in St. Louis, An Invitational Exhibition :: 2006-2007
Sheldon Art Galleries Museum, St. Louis, MO.
In 1992, as a final project for Rudi Torrini's Masters Class at Fontbonne College, I modeled a miniature portrait of Scott Joplin directly in wax, 5 1/4" tall. This original wax was cast in bronze.
In 2005, I refined the original bronze, molded it, and started the bronze edition for a ragtime aficionado. "Scott Joplin" in bronze includes my original signature and ©1992, along with ©2005 and my mark,

.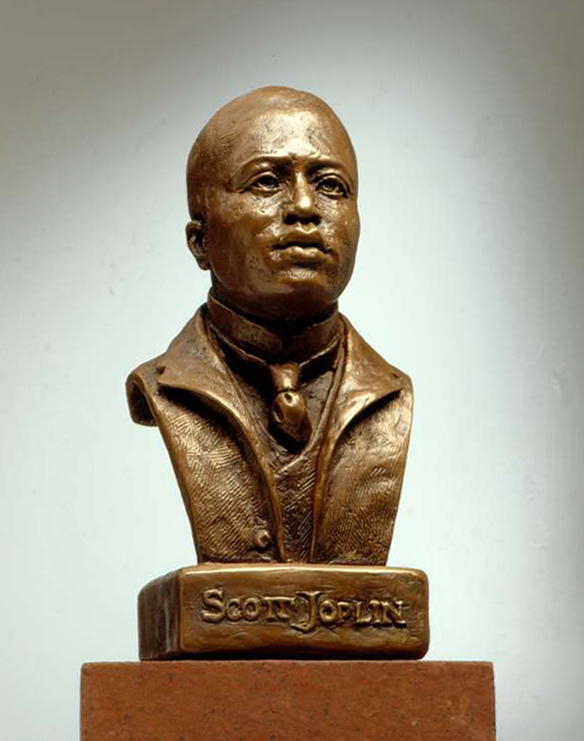 "Scott Joplin"
Bonded Bronze Bust
5 1/2"H x 2 3/4"W x 2 1/2"D
Bonded Bronze Edition 6 & 2 Artist's Proofs ©1992
Edition Complete
1 1/2 pounds
I originally thought bonded bronze would be the perfect medium for an edition of this piece, but after making the original six bonded bronze casts and two artist's proofs, I decided to make no more. Therefore, the first six were marked as though there was to be an edition of 150. In reality, there were cast only eight bonded bronze busts: six bonded bronzes that are numbered from 1/150 – 6/150, one un-numbered artist's proof, and one simply marked AP. Seven "Scott Joplin" bonded bronzes are with collectors in Brazil, Japan and the United States. Bonded bronze busts do not include my mark,

.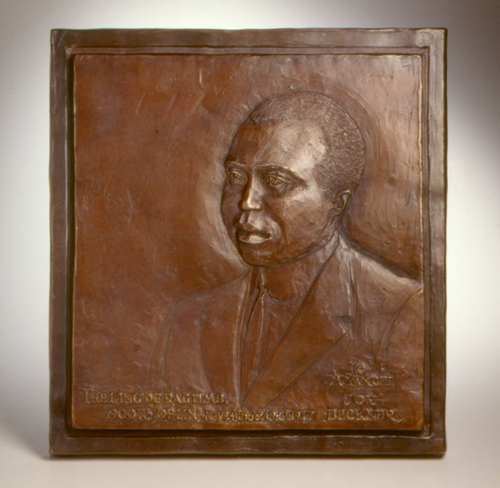 "The King of Ragtime – Scott Joplin"
Nov. 24, 1868 – Apr. 1, 1917
10" x 10" x 1"
Bronze Ed. Open & 1 Artist's Proof ©1993
"Scott Joplin - The King of Ragtime" was modeled as a sample for The National Cosmetology Association.
See a Framed Paper Cast of "The King of Ragtime - Scott Joplin" at the Scott Joplin House, St. Louis, MO.
Both sculptures are shown at the Scott Joplin International Ragtime Foundation Inc., Sedalia, MO.
Each is numbered and hand made in Colorado, USA. Enjoy!