Natasha Human Bronze Sculpture by Joy Beckner Bronze Sculptor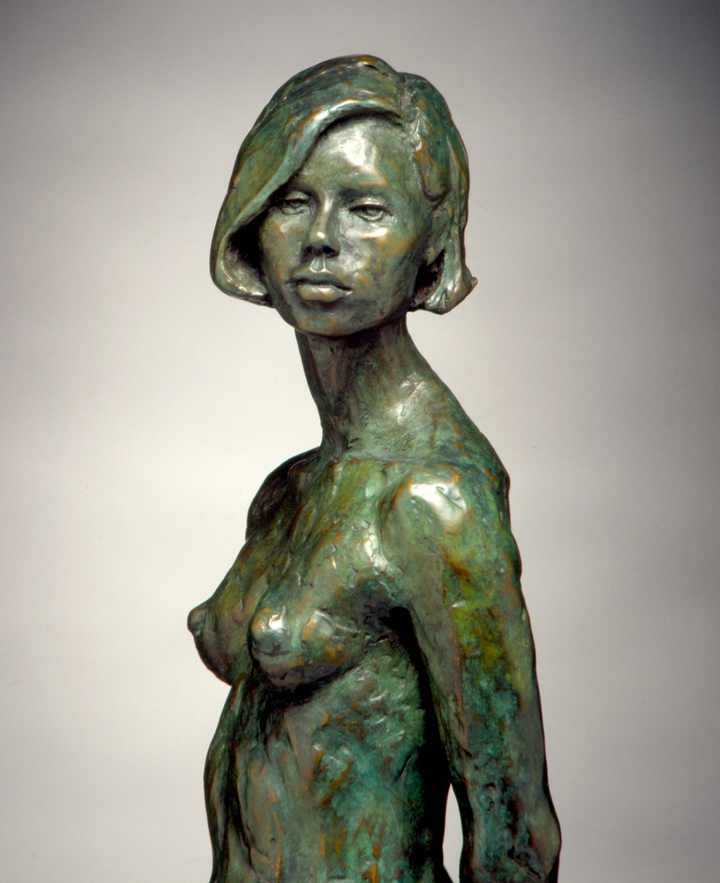 26"H x 13"W x 7"D
Bronze Ed. 20 & 2 Artist's Proofs ©1991
"I love my Natasha so much that my wife gets jealous. Thank you for that." Regards, Isaac K., CA.
In Spring 1996 Natasha was juried into Sculpture in the Park, Loveland, CO, 13th Annual International Show. For this August 1996 show, Joy made small changes, had her cast in bronze and mounted on dark green marble. The original Polychromed Hydrocal was completed in 1991 and remains in the collection of the artist.
Natasha in Hydrocal ws shown twice at The Saint Louis Artists' Guild, most recently in the October 1995 "Nexus" show celebrating the grand opening of their new location, Two Oak Knoll Park, Clayton. This show included works by three generations of artists, including works by several of Joy's professors from Washington University. "Nexus" was juried by Marla Prather, Assistant Curator of 20th Century Art, National Gallery of Art, Washington, D.C. Natasha was featured by KMOV-TV, St. Louis, MO, when announcing "Nexus."